Expats: All About Moving to Montpellier, France
If you're considering relocating to the South of France for any reason, moving to Montpellier is a wonderful choice. In this article, we will give you some of our best tips for moving to, living in, or even retiring in Montpellier, France. We will also share with you some details about the expat culture, as well as a few of the best neighborhoods in Montpellier. Keep reading to find out more.
Should I move to Montpellier, France?
Whether you're relocating for work, family, or simply because you'd like to live abroad, France is a welcoming country that attracts many tourists and expats every year. Many people think only of Paris when considering moving to France. But this beautiful and historic country has much more to offer than just the Eiffel Tower. If you're considering the South of France, with its long, sunny days and slow pace of life, then Montpellier may be the right choice for you.

While nobody can make the decision for you, moving to France can definitely be an insightful, life-changing experience. Here is a look at a few different examples of what moving to Montpellier, France could look like for you.
Moving to Montpellier, France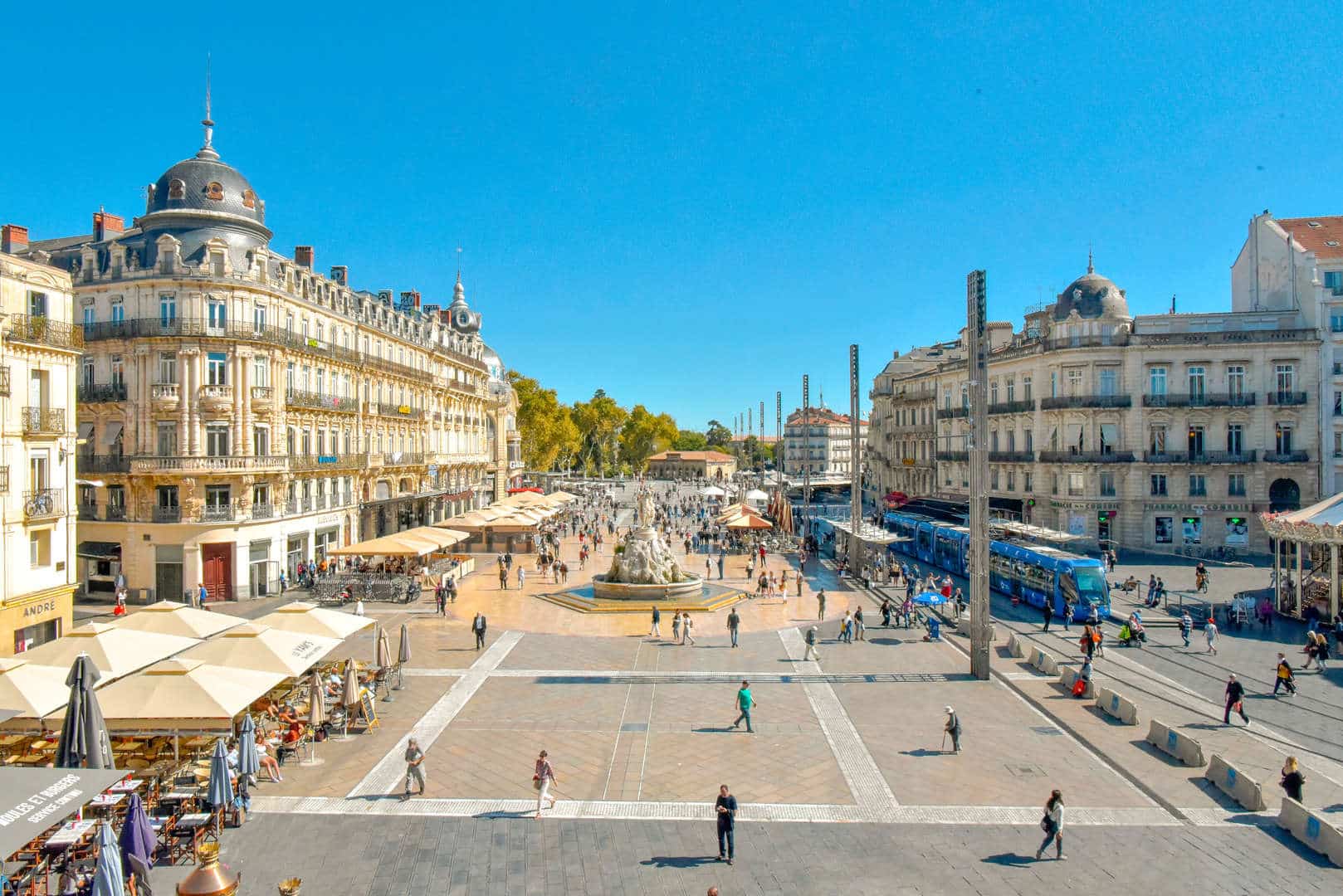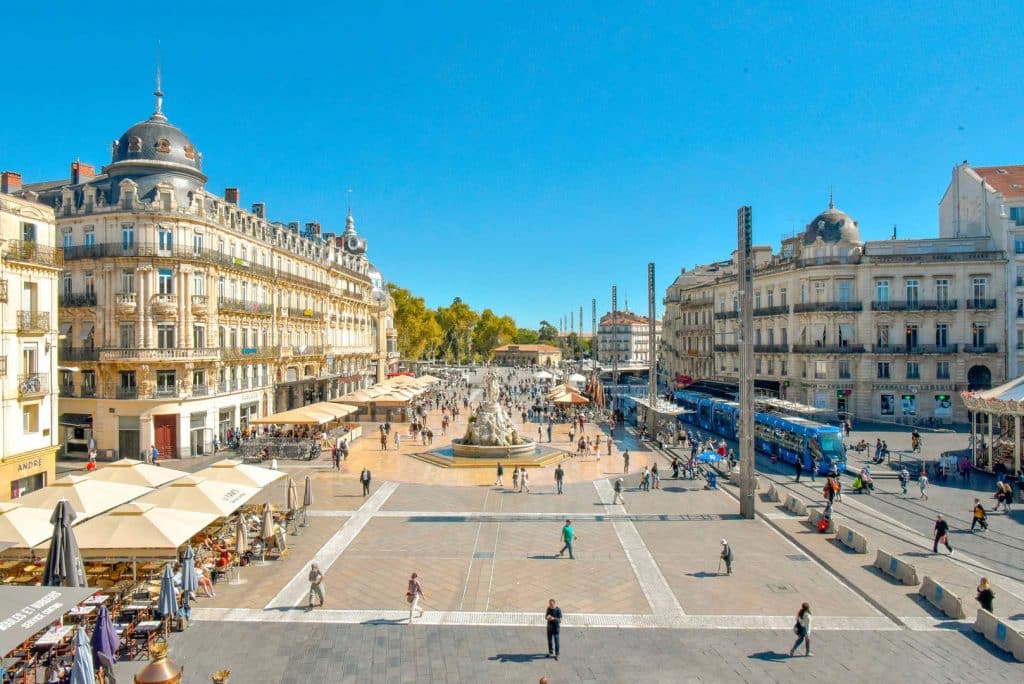 Montpellier is a popular tourist location, due to its warm climate, proximity to the Mediterranean Sea, charming old town, and welcoming international atmosphere. It's no wonder so many tourists visit this bustling Southern city and ultimately decide to call it home! In addition, there is a large expat community in Montpellier, due in part to the availability of direct flights from cities like London and Barcelona.

Another contributing factor to the large expat presence in Montpellier comes from the seven large universities in the area. Students from all over the world come to Montpellier to study a large range of subjects, from agriculture to law.
Living in Montpellier, France
Once you've settled into your new city, you'll quickly get into the swing of everyday life. You'll start to appreciate the things that the locals love. For example, the tiny, twisting, turny cobblestone streets, the outdoor terraces at just about every restaurant, the markets full of fresh fruit and vegetables, and the seafood specialties freshly caught on the nearby Mediterranean Coast.

The cost of living in Montpellier is significantly more affordable than other large cities, such as Paris or Marseille. The city does count 11 Michelin-starred restaurants. However, you can just as easily find a great restaurant with three courses (entrée, plat, dessert as is typical in France) for around 25€ per person. In addition, being a city full of students, there's no shortage of affordable local « fast food » restaurants. (Especially on Rue de l'Université in the pedestrian area of Montpellier.) A relatively inexpensive city, you can definitely go out and enjoy yourself in Montpellier without worrying about breaking the bank!
Retiring in Montpellier, France
Montpellier is also a hot spot for expat retirees, and most notably for British citizens coming from the United Kingdom across the Channel. The South of France has become one of the most sought-after locations for retirees of any nationality. Montpellier is a great choice for retirement due to the diversity of its real estate and the many different residential neighborhoods that it boasts (but more on that later).

The city offers plenty of language schools for all different levels, including specific courses aimed at students aged 50 and older. Many expat retirees in Montpellier enjoy attending French classes. It provides an opportunity to interact with the local community, make friends, and improve your French all at once. Ultimately, it helps them integrate into their community and gives them confidence to become an active participant in conversation.

In addition, Montpellier, as with many other parts of France, enjoys a strong pétanque culture. This game is played by many retirees throughout the country, but especially in the Occitanie region, with the International Pétanque competition taking place each year just a short car ride away in Palavas-les-Flots. The game is essentially like curling or horseshoes, and it is a serious favorite pastime of many a French and expat retiree.

For these reasons and many others, the social scene for retirees in Montpellier is open, warm, and welcoming, no matter where you come from on the globe.
Expats in Montpellier, France
But of course, you don't have to wait until you retire to move to France! You can become an expat in Montpellier any time that you'd like. Montpellier knows a very large and diverse expat community, including not only the British, but also Americans, Asians, Australians, Canadians, and expats from other European countries. You'll find no short supply of expat meet-ups and get-togethers, all throughout the city. They will help you get acquainted with other epats living in Montpellier. In no time at all, you'll make new friends from all over the world (and some who share the same home country as you) from right here in Montpellier!

There are also quite a few restaurants owned by expats in Montpellier, especially in the old town area. For example, while in Montpellier, you may be in the mood for an authentic Italian pizza, a legitimate Irish pub, or some real American pancakes for breakfast. Thanks to the city's rich expat community, you can find it all – and often within just a few blocks of each other.
Best Neighborhoods in Montpellier, France
Montpellier proper counts some 280,000 people among its residents. The city itself is made up of seven large neighborhoods, each of which is then divided into smaller sections, for a total of around 30 neighborhoods. Clearly, you should think about where to live in Montpellier (and which areas to avoid in Montpellier) before you arrive. So, let's take a look at the seven large neighborhoods that make up Montpellier.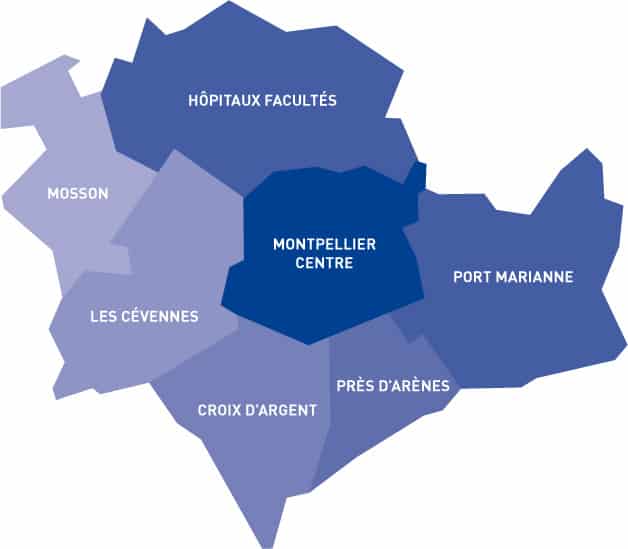 Montpellier Centre
This is the central neighborhood in Montpellier – both in terms of physical space and the place where everything happens. Historical monuments, the train station, shopping, restaurants, businesses, museums, and a ton of old-style apartment buildings make up the area. It's a popular residential area for young people and students. You'll be in the middle of all the action here.
Port Marianne
Located on the East side of Montpellier, Port Marianne is one of the more recent neighborhoods in the city. It is less dense than the cobblestone streets in the Historical Center and offers more modern architecture for both its business buildings and large high rise apartment buildings. Think of it as the Silicon Valley of Montpellier, adored by techies and investors, and every bit as expensive.
Prés d'Arènes
Almost directly south of Montpellier Centre, Prés d'Arènes is one of the smaller, more residential areas of the city. It is well-served by public transportation and the housing is not outrageously expensive. Therefore, you'll find a lot of young people, couples, and families living there.
Croix d'Argent
This neighborhood is located slightly to the South of Montpellier, and it is very much an urban area. There are many apartment complexes and residential buildings in the area, as well as numerous businesses. It's easily accessible by tram or bus. A large part of the population is made up of retirees and families.
Les Cévennes
This neighborhood, located on the West side of Montpellier, is celebrated for its diversity of social classes. The area is made up of mainly residential areas and includes working-class families, as well as more well-to-do inhabitants. The area is a favorite of families and young couples, for its calm atmosphere and practical location near public transportation.
Mosson
This neighborhood, located to the Northwest of Montpellier Centre, is the neighborhood with the lowest income in all of Montpellier. Although the neighborhood continues to develop and make great strides, Mosson still unfortunately has trouble shaking its bad reputation. It is a large urban area with many residential buildings and small, local businesses. It is well-served by public transportation and many families with modest means live in the area.
Hôpitaux-Facultés
And finally, the Hôpitaux-Facultés neighborhood, located to the North of Montpellier Centre, is where you'll find exactly what the name entails: hospitals and schools. This is the part of Montpellier that is home to the seven aforementioned universities, as well as several hospitals that serve the area. As a result, you'll find many, many students living in the area, including expats. It essentially comprises residential areas, small grocery stores, and inexpensive restaurants that appeal to the student population.
So, there you have it! A few of our best tips and tricks to help you out on your journey moving to Montpellier, France… Just don't forget to brush up on your French before packing your bags. 😉
---
---
---